Recently I was shopping for an erotic toy at SexToys 24/7 – more specifically, a stroker from their mens adult toys collection – (based in Australia means it has to be local to get fast delivery).  It dawned on me that I was making the purchase, to travel with but had I considered what I could and couldn't legally (and embarrassment level-wise) take with me? – No I hadn't, so I had to think quickly and research!
Taking a trip without your favorite love toy companion can certainly be a lonely one, however there's no need to leave your sex toys at home with a few simple tips for getting off the ground along with your gear.
1. Check your airline for prohibited items.
Before you pack that ten-inch dildo into your carry-on bag make sure that you've checked with both the Civil Aviation Authorities Dangerous Goods app and the government's TravelSecure site to see if your toy is a prohibited item. Anything that's large enough to bludgeon someone with, sharp objects like pinwheels, and any restraints like handcuffs or zip ties are not allowed to be taken on board and will have to be left in your luggage.
Of course that may lead to a host of other problems as writer and lawyer Jill Filipovic found when she travelled with her vibrator in her suitcase in October of 2011. According to CNN, upon opening her luggage after her flight she found a notice from the TSA stating her bag had been randomly searched with a handwritten note that said "Get your freak on girl". And while the luggage attendant was disciplined it does bring to light the fact that what's in your suitcase won't necessarily remain private.
2. Pack Smart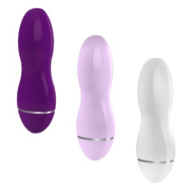 Once you've determined which toys are safe to bring with you on board make sure that you've removed any batteries or switched your toy to a safety mode so an accidental knock won't start your bag buzzing and put the attendants on high alert. You don't want them to pull out your vibrator in front on everyone because it's pulsing and buzzing in the overhead compartment. That's why some sex toys, like the Whooper Swan, include a special safety feature that requires an extended press of the button to start it vibrating, negating any worries over accidental bumps.
Depending on what else you are taking on board with you, you may find the need to pack light and that might mean narrowing down your collection to only one or two favourites. Of course smaller sized toys like bullets can even be tucked away in your handbag, and nothing makes a long flight ease by faster than a quick trip to the restroom with your handy little toy! We love the OVO W1 bullet vibrator because the small size is easy to conceal while the powerful motor will cause its own type of extra quiet turbulence.
3. Check The Power Regulations of Your Destination
If your sex toy requires charging or plugging into a power source then you'll need to be cognizant of the regulations in your destination country. While Australia, Asia, and most of Europe work on 230V 50Hz, countries such as the USA and Canada operate on a 100/120 V 50/60Hz system that may short out your toys and will require the use of a voltage adaptor. You may also need a power adaptor that will allow you to plug your sex toy into the wall as many countries have plugs that appear different from ones in Australia.
Resources: